The Afghanistan World Foundation (AWF) origins trace to December 1979 when Sonia Nassery fled to the United States from Afghanistan during the Soviet invasion.
After establishing herself, Sonia wrote an appeal to President Ronald Reagan, who invited her to the White House to discuss the Afghan-Soviet War. Initially, Sonia's activism was directed at organizing Congressional testimony resulting in the arming of Commander Ahmad Massoud's Northern Alliance Freedom Fighters, an indigenous Afghan resistance movement, with Stinger missiles to resist the Soviet invasion. After the Soviet withdrawal in February 1989, Sonia turned to the needs of her devastated country and especially the Afghan refugees, millions of whom were living in crowded camps in the countries bordering Afghanistan. Her efforts resulted in raising millions of dollars to aid to the Afghan refugees and the construction of needed health facilities and services in the camps. In recognition of her charitable work for Afghan refugees, she was awarded a Peace Medal in the early 1990s at the United Nations in New York.


In May of 2002, in the wake of the U.S. and coalition response to the September 11th tragedy, Ms. Sonia Nassery Cole founded the Afghanistan World Foundation (AWF) of which she was elected Chairman and CEO. AWF seeks to actively engage the public and private sectors, individuals, organizations, corporations and government ministries as well as the international aid community in our collaborative efforts to meet the critical humanitarian needs and assist in the reconstruction of Afghanistan.
---
OUR MISSION
The mission of the Afghanistan World Foundation (AWF) is to provide multilevel broad-based support at the grass roots level pursuant to the Afghan National Development Framework (NDF) mandate. AWF action programs are based on high priority survival needs in Afghanistan such as education, economic development and emergency health services, hospitals, mobile care systems, and enhancing social opportunities for Afghan women and children.
The educational and health systems in Afghanistan are in dire states of neglect after three decades of conflict. Devastation of the country from war and hostile occupation from the repressive Taliban regime destroyed over 70 percent of the schools and most of its hospitals. The task of rebuilding these vital systems is urgent. Quality education and basic health care are pillars for building a strong civil society and a vibrant democracy in Afghanistan. The AWF is investing in rebuilding schools, health services and related core social programs relevant to the needs of twenty-first century Afghanistan as it embarks upon a promising future.
The Board of the Afghanistan World Foundation is dedicated to increasing public awareness by spotlighting these critical needs and on developing effective solutions. AWF produces media worthy events and programs to attract the support of the public, donors, volunteers and securing involvement of decision makers. AWF also works with other agencies focused on serving special areas of Afghan humanitarian needs, as well as with USA and International officials involved in helping rebuild and protect the newly won freedoms of Afghanistan.
---
LAND MINES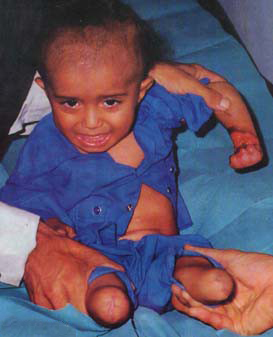 Afghanistan is one of the most heavily mined countries in the world and has the highest number of reported casualties due to landmines and unexploded ordnance injuries in the world. The estimated number of landmines has been as high as 40million and with a population of 28million the cruel reality is that there are one and half landmines per person. While virtually all combatants in Afghanistan in recent decades have used mines as a military tactic, the cruelest casualties on civilians have been inflicted by anti-personnel mines laid by the invading Soviet forces from 1979-1989. Landmines have been planted indiscriminately over most of the country. Agricultural farms, grazing areas, irrigation canals, residential areas, roads and footpaths, both in urban and rural areas, are contaminated. Mines have become a major obstacle to repatriation, relief, rehabilitation and development activities. The United Nation's Mine Action Program for Afghanistan (in operation since 1989) along with scores of non-governmental organizations and UN affiliates have been working diligently through war and peace to reduce the massive numbers of landmines in Afghanistan. Although perceptible progress has been made, the rugged terrain, political instability and the broad distribution of unmarked and unmapped landmines have led to high casualty rates making victim assistance a priority concern. Therefore the current AWF Mission Statement emphasizes the critical need for mobile emergency medical services in Afghanistan to assist the inhabitants in remote villages that have lost precious lives from lack of urgent critical care.
---
George H. W. Bush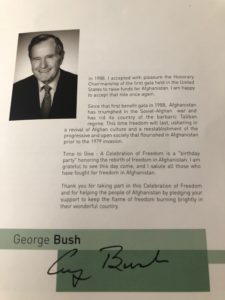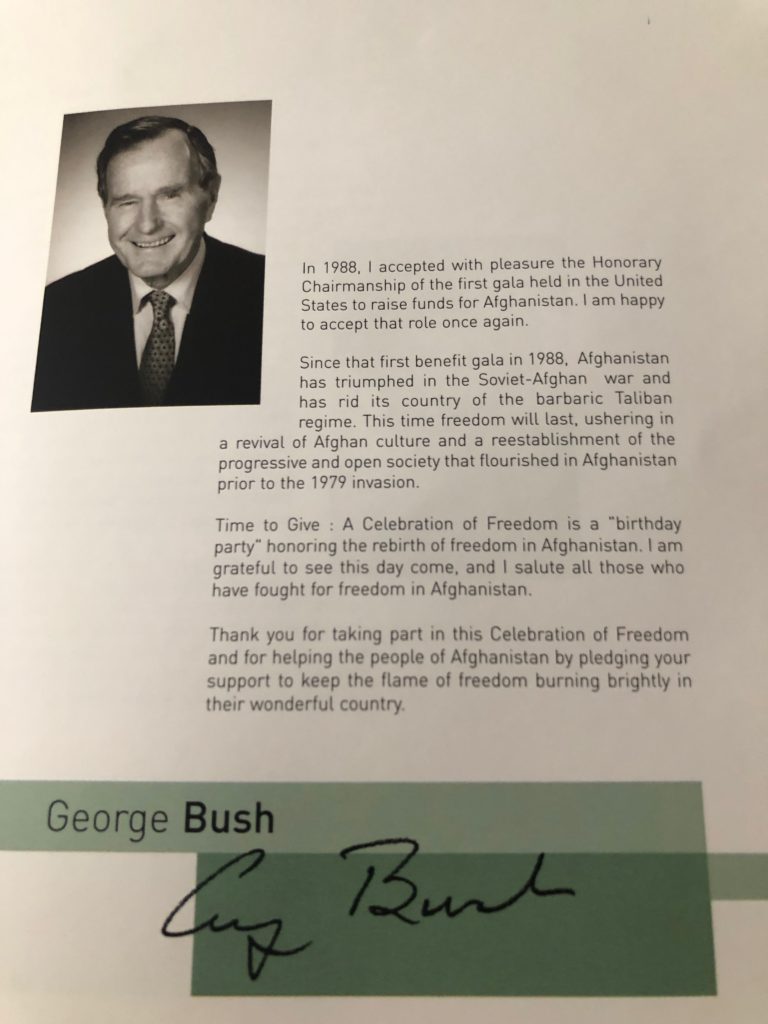 Afghanistan World Foundation salutes President George H.W. Bush for his support for Afghanistan during the cold war.
"Lest we forget: the noble people of Afghanistan have suffered enormous deprivation during the war… The people of Afghanistan have reached out their hands for our help, and America will not let them down." — Vice President George Bush January 25, 1988 in a letter to Sonia Nassery Cole