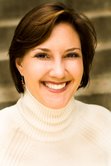 Cynthia Hogle has domestic and international experience in public affairs and media relations, development, marketing communications and strategic planning for start-up and growth oriented non-profit and business organizations, and government programs
Ms. Hogle's television credits include: Roseanne, Married…With Children, talk shows, and projects for MGM, Columbia Tri-Star, and Fox Television. She has directed external affairs strategies and produced events for the White House, D.A.R.E. America, Worldwide, Citizen Shools, and the Pacific Council on International Policy.  Appointed Special Assistant to the Chief of Protocol, and Protocol Gift Officer, Cynthia traveled as a member of the support staff on President Clinton's official visit to India.
Having written on politics, media and celebrity advocacy, Cynthia presented a paper at the annual plenary meeting of the  InterAction Council of former Heads of State and Government, which was one of five papers selected for publication.
Cynthia was awarded a Fellowship at Conaculta (National Council for the Culture and Art of Mexico), where she directed a rural literacy campaign. She received her BA from California  State University, Northridge, and her MPA from Harvard University.
Cynthia was in Iraq for 18 months serving as a Public Diplomacy Officer for the U.S. Department of State (2009-2010) where she helped found The Actors and Artists Forum.  She is currently serving as a Human Terrain Analyst with the U.S. Department of the Army.